Join us for the MSA 70 on 70 Dinner celebrating Mark Hambrook's 70th Birthday and Retirement
& the 70th Anniversary of the Miramichi Salmon Association! This event is happening at the Rodd Miramichi on Saturday, April 29th beginning with a cocktail reception and silent auction at 5:30pm AST, followed by a beef and buffet dinner at 7pm AST. The event will feature musical entertainment, a live auction, and remarks from past MSA president Bud Bird.
MSA Past President and Hatchery Manager
Mark Hambrook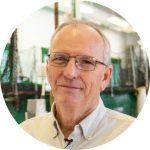 Born and raised on the Miramichi in Renous, Mark graduated from the University of New Brunswick and began his career as a fish technician with the Department of Fisheries and Oceans (DFO). After seven years, he was promoted to the role of biologist and began managing the fish hatchery in South Esk. Mark worked at DFO for over 18 years.
When the federal government announced the closure of the hatchery in 1997, Mark partnered with the MSA as a private investor to acquire the hatchery from DFO. Through the Miramichi Watershed Management Committee, the MSA assumed full operation of the hatchery in 2000. Mark took on the role of MSA President and continued to guide the hatchery's operations for the next two decades.
A block of rooms has been reserved at the Rodd Miramichi under the Miramichi Salmon Association at a special rate of $140 per night. To reserve a room at this special rate call (506) 773-3111 or email miramichi@roddvacations.com. This offer expires April 1st. 
To purchase tickets, complete the online form by clicking the button below, or call our office during weekday hours at (506) 622-4000. Tickets purchased for this event are eligible for a tax-deductible receipt, less the value of advantage. All tax-deductible receipts will be issued following the event.
Thank you for supporting the MSA !