Location
The Burnt Land Brook cold water refuge is located at the confluence of Burnt Land Brook and the SW Miramichi, located in Boiestown, NB.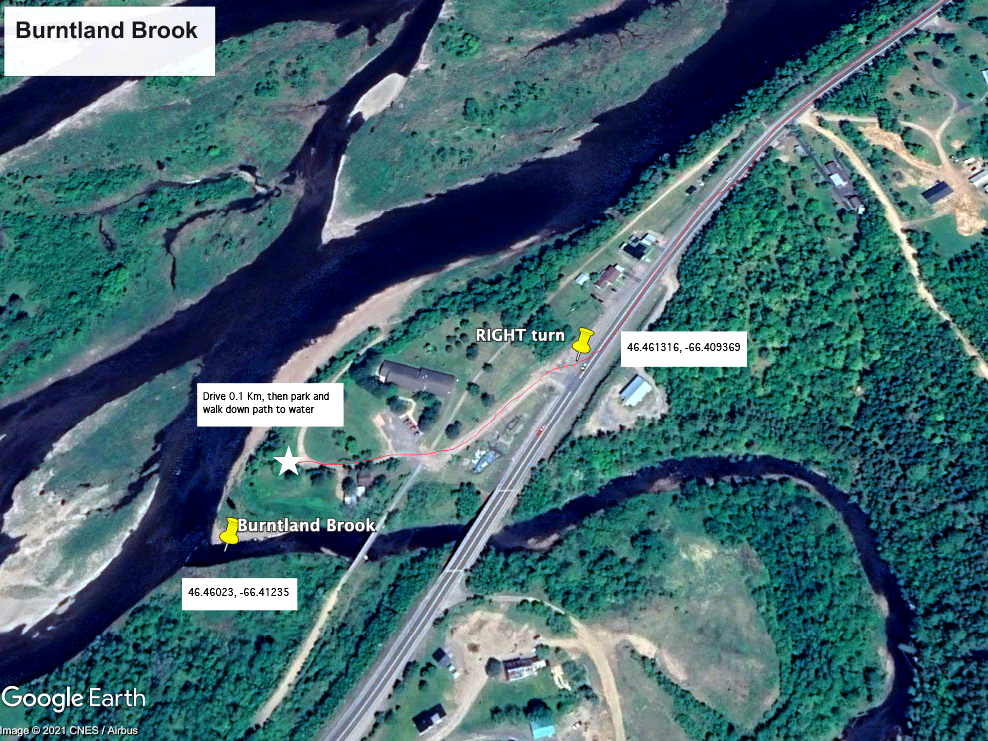 2018 Cold Water Habitat Enhancement
This major project at the Burnt Land Brook cold water refuge site was undertaken because the channel bed of the brook was aggrading as sediments were being deposited in the channel and not flushed through to the main river. As the channel bed increased in height, the resulting affect was additional scour on the banks leading to an over-widening of the channel bankfull width. The situation had been going on for years, causing part of the flow along the south bank of the SW Miramichi River to be directed into the right bank of the Brook, creating eddy currents and slack water that reduced the concentration of flow exiting the Brook out into the river and the cold-water pool located there.
To enhance the Brook's cold-water flow and contributions, the bankfull width of the mouth of Burnt Land Brook was reduced down to 16 meters from its eroded 27+ metres. This was accomplished by creating a new rock toe location along the right bank of Burnt Land Brook. The constructed rock toe narrowed the channel width and increased the water velocity. This will assist in moving deposition already accumulated on the channel bed and prevent any further deposition from accumulating beyond the local depositional requirements for this reach of the brook to maintain equilibrium.
Project cost was approximately $65,000 of which we received $18,000 from the Atlantic Salmon Conservation Foundation and $24,180 from the NB Wildlife Trust Fund.
2021 Cold Water Habitat Maintenance
Details coming soon.