Friends of Cold Water Donate
Friends of Cold-Water
Enhancing critically important thermal refuge
habitat for wild Atlantic salmon
Our changing climate is warming our rivers, resulting in both adult & juvenile salmon having to tolerate and survive an ever-increasing number of stre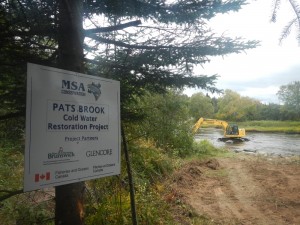 ssful and life-threatening warm water events. Therefore restoring and maximizing the long-term influences and contributions of cold-water brooks and seeps for thermal refuge and protection has become a priority 'in-river' conservation management action in the effort to maintain a healthy river system for returning adult spawning salmon as well as growing juveniles.
(Photo:Pats Brook Enhancement Work in Progress)
Responding to this critical need, in 2014 the MSA initiated a 5+ year strategic initiative to restore and improve key cold-water refuge habitat throughout the main stems of the watershed. Thanks to the financial
support of salmon enthusiasts like you, the MSA has now been able to complete six (6) cold-water restoration/enhancement projects within the Miramichi watershed (click here for description of projects). Later this summer/early Fall 2017, the MSA hopes to complete its 7th cold-water project, located at the confluence of Salmon Brook and the Cains River.
If you'd like to be a part of this critically important cold-water habitat initiative, please join and support the MSA's annual "Friends-of-Cold-Water" campaign simply use the Paypal buttons below.
Program of Choice: