Location
The Brook cold water refuge site is located along a section of the SW Miramichi River in the Village of Doaktown, NB, immediately upstream of the bridge crossing on Route 8. Doak Brook enters the SW Miramichi River on the right bank (south bank) and flows into relatively deep water.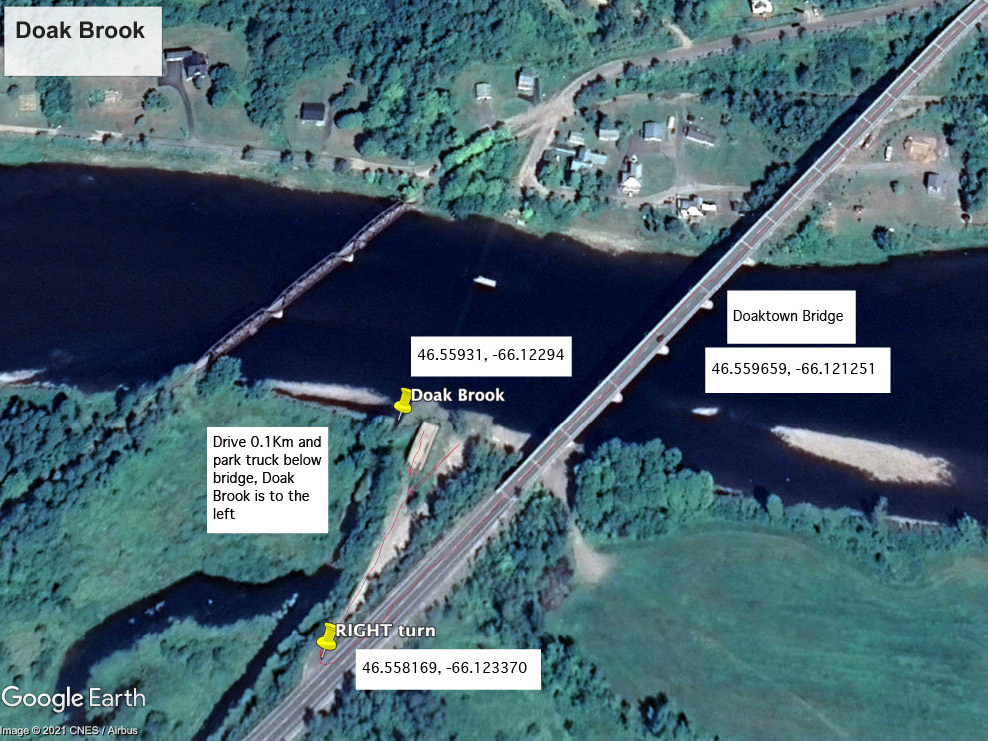 2015 Cold Water Habitat Enhancement
Widening of the mouth of the brook had resulted in reduced energy flow at the mouth which inhibited the brook's cold water from entering far enough out into the river where salmon prefer to hold in deeper water during the summer's flow of low warm water. To increase Doak Brook's energy, the mouth of the brook was narrowed by installing a rock toe along the right bank as it merges with the riverbank. In addition, a nature-like point bar feature was installed on the downriver side of the confluence (right bank of the brook) which will direct cold water into the deep area of the river where salmon typically hold during periods of low warm water. An embedded rock toe was also installed to help the brook transition into the river.
This habitat enhancement work was initiated and completed on Sept. 14, 2015. A further enhancement followed on September 26, 2015 with the installation of a large cement pad boat ramp. This ramp will prevent tire-spinning and erosion when launching or retrieving boats in the boat launch area, which is located within the cold water plume of Doak Brook.
Funding support for this project was received from the Recreational Fisheries Conservation Partnership Program (RFCPP), the New Brunswick Wildlife Trust Fund (NBWTF) and the Atlantic Salmon Conservation Foundation (ASCF). The MSA's financial contribution was provided through MSA Campaign 60 revenues.
2021 Cold Water Habitat Maintenance
Details coming soon.