Location
The Indiantown cold water refuge site is located at the confluence of Indiantown Brook and the SW Miramichi River in Quarryville, an area located in the lower stretch of the river system. The brook enters the river on the left (north) bank and enters the Miramichi River in a relatively deep area, creating a cold water refuge known to be used by adult Atlantic salmon during warm water periods in the summer. This site is easily accessible, rendering it easily susceptible to predation and poaching while salmon are confined to the cold water pool at the mouth of the brook.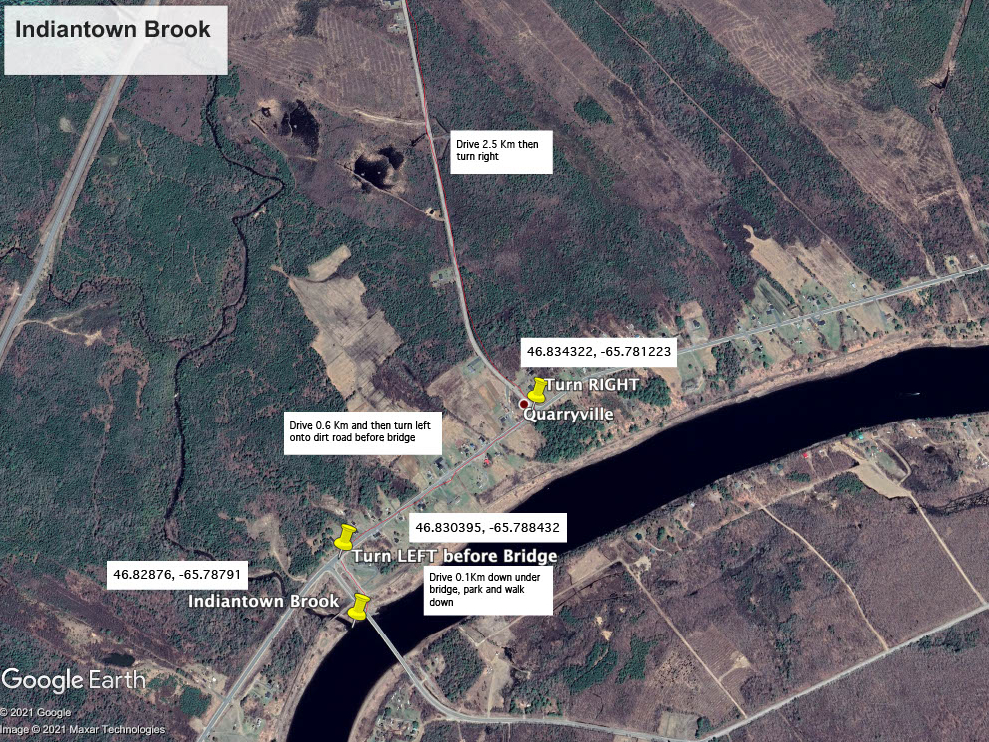 2015 Cold Water Habitat Enhancement
To enhance this refuge's habitat features, boulder clusters were installed directly into the existing pool. Placement of these boulder clusters will cause flow separation around the rocks, resulting in the formation of eddies in their wake. Eddies diffuse the sunlight, providing overhead cover for fish. In addition, flow vertices generate scour that form pockets of deeper water and promote settling of coarser substrate which improves physical substrate diversity. Such features provide ideal conditions for juvenile and adult salmonids. Diversifying substrate with boulder clusters will also discourage poaching efforts, as fish will no longer be easily spotted and nets will no longer easily swept through the pool.
This habitat enhancement work was initiated on Sept. 16, 2015 and completed on Sept. 17, 2015.
Funding support for this project was received from the Recreational Fisheries Conservation Partnership Program (RFCPP) and the Atlantic Salmon Conservation Foundation (ASCF). The MSA's financial contribution was provided through MSA Campaign 60 revenues.
2021 Cold Water Habitat Maintenance
Details coming soon.