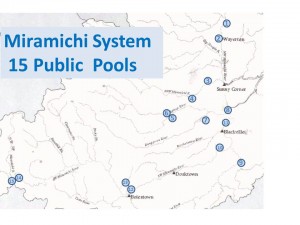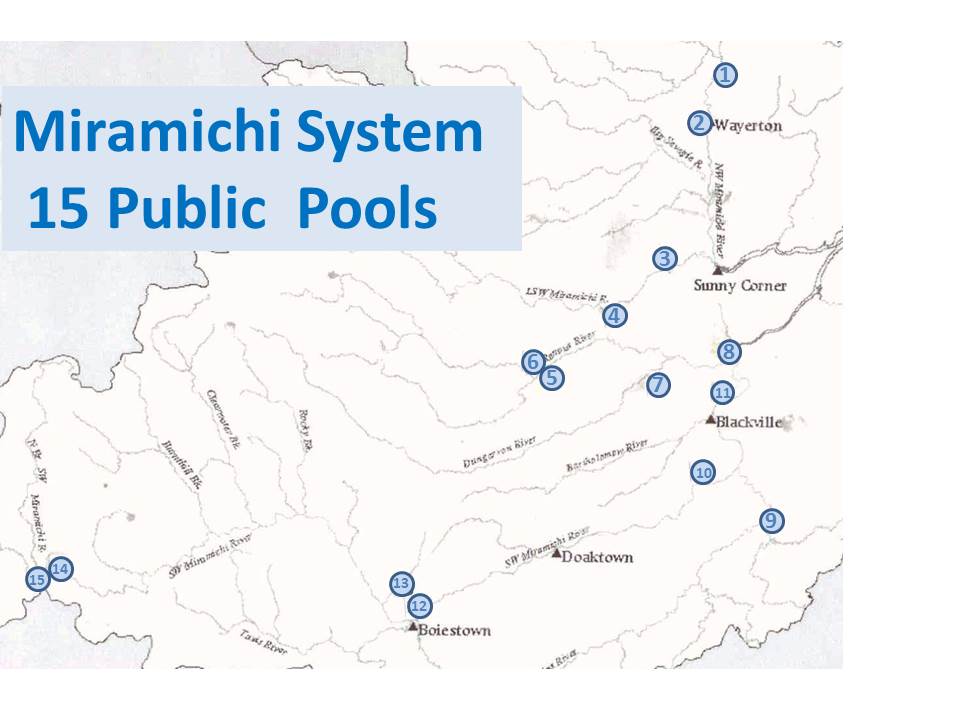 Northwest Miramichi
1-Allisons Run: N 47° 12.609 W -65° 49.071       Google Maps: 47°12'36.5"N 65°49'04.3"W
Directions: Route 430 from Miramichi to Urquhart Road - 2 miles past Wayerton on right (last part of road is rough)
2-Wayerton Bridge: N 47° 08.108 W -65° 49.943       Google Maps: 47°08'06.5"N 65°49'56.6"W
Directions: Route 430 from Miramichi to Wayerton or Route 425 from Sunny Corner to Wayerton
Little Southwest Miramichi
3-Somers Bridge: N 46° 56.120 W -65° 54.492       Google Maps: 46°56'07.2"N 65°54'29.5"W
Directions: Located on Route 420 in Sillikers - bridge crossing over to Lyttleton
4-94: N 46° 52.915 W -66° 05.529       Google Maps: 46°52'54.9"N 66°05'31.7"W
Directions: Catarmaran Road off Route 420 - follow sign towards Research Centre, approximately 5.5 km
Renous
5-Big Hole on the Renous: N 46° 47.313 W -66° 10.605       Google Maps: 46°47'18.8"N 66°10'36.3"W
Directions: Heading east on Route 108 - 2nd road on right after crossing North Branch of Renous - follow road to gravel pit-pick up walking trail in left corner of pit - approximately 10 minute walk from pit
6-Bridge Pool North Renous: N 46° 47.695 W -66° 11.826       Google Maps: 46°47'41.7"N 66°11'49.6"W
Directions: From Miramichi take Route 8 south to Route 108 west and travel to 1st cement bridge crossing river - you are at North Renous River
Dungarvon
7-Furlong Bridge on the Dungarvon: N 46° 44.556 W -66° 00.977       Google Maps: 46°44'33.4"N 66°00'58.6"W
Directions: From Miramichi heading south on Route 8 exit to Lockstead Road by turning right - proceed uphill to a left which takes you past Blackville High School - this is MacLaggan Road which becomes Dungarvon Road - proceed on this road until you come to bridge
Cains
8-Sabbies on the Cains: N 46° 35.472 W -65° 43.484       Google Maps: 46°35'28.3"N 65°43'29.0"W
Directions: Exit Route 8 in Blackville onto South Cains River Road and follow up SW Miramichi approximately 11 km to dirt road - continue to GPS coordinates - 5 minute walk from parking area
Southwest Miramichi
9-Quarryville: N 46° 49.416 W -65° 47.379       Google Maps:  46°49'25.0"N 65°47'22.7"W
Directions: Travelling north on Route 8 from Blackville - exit onto Route 108 - take street between church and Dawson's General Store and follow to river - turn left and follow to end of road
10-Government Pool: N 46° 36.473 W -65° 53.481       Google Maps: 46°36'28.4"N 65°53'28.9"W
Directions: Travel south on Route 8 past road on left which takes you to Arbeau Settlement - continue approximately 3 km to next valley (there is a small church in valley on the left) - exit to the left through field and continue to GPS coordinates on river
11-Gray Rapids Pool: N 46° 47.011 W -65° 45.324       Google Maps: 46°47'00.7"N 65°45'19.4"W
Directions: Travelling north on Route 8 exit Blackville and take the Barnettville Road which will be on your right - follow this road along the river until you arrive at GPS co-ordinates
12-Cache Pool: N 46° 27.685 W -66° 24.750       Google Maps: 46°27'41.1"N 66°24'45.0"W
Directions: Travelling south on Route 8 exit onto the Cache Road which is located in the centre of Boiestown - this road will take you into the seniors housing complex - as you enter the parking road, you will see a dirt road on your left - follow this dirt road to the river
13-Burntland Brook Pool: N 46° 27.625 W -66° 24.773       Google Maps: 46°27'37.5"N 66°24'46.4"W
Directions: Follow same directions as for Cache Pool - when you reach the river walk upstream to mouth of Burntland Brook
14-Dungeon: N 46° 31.349 W -67° 08.604       Google Maps: 46°31'20.9"N 67°08'36.2"W
Directions: Exit Route 8 and follow Route 107 to Stanley - continue on Route 107 past Irving mill at Deersdale and proceed to GPS coordinates - park on side of road and follow trail to river
15-Forks Pool: N 46° 31.129 W -67° 09.158       Google Maps: 46°31'07.7"N 67°09'09.5"W
Directions: Located at junction of North Branch and South Branch of Southwest Miramichi - exit Route 8 and follow Route 107 to Stanley - continue on Route 107 past Irving Deersdale mill and proceed to GPS coordinates - will be on the right side of road
ALL DISTANCES AND LOCATIONS ARE APPROXIMATIONS.
A list of Outfitters / Accommodations is listed elsewhere on the MSA Web site. Click here to see that list.
DISCLAIMER
To the best of our knowledge the above pools are open to the public. When fishing what you believe to be public water please respect the rights of private property owners. If you see a "No Fishing" sign or if you are challenged please leave and report the incident to the MSA. Note that non-residents require a guide when fishing salmon in New Brunswick.
Salmon Fishing Etiquette
A courteous angler:
Fishes with BARBLESS HOOKS.
Practices HOOK AND RELEASE (live release) of both grilse and salmon.
Purchases a LIVE RELEASE LICENSE.
Records and returns ANGLING INFORMATION.
Plays fish for a MAXIMUM OF 10 MINUTES and breaks off a fish rather than tire it out.
Stops fishing when the water temperature is above 22 degrees Celsius.
Sets YOUNG SALMON free.
Returns TAGS from adult salmon.
Knows and obeys all FISHING REGULATIONS.
Respects PRIVATE PROPERTY.
Reports POACHERS.
Recognizes that LITTER and POLLUTION are a danger to fish and fish habitat.
Prevents FOREST FIRES.
Is aware of the dangers caused by INVASIVE SPECIES of both plants and fish.
Shares pools moving DOWNSTREAM IN TURN.
Gives RIGHT OF WAY when another angler hooks a fish.