Salute to Manley Price – Saturday, November 19th, 2016. The Miramichi Salmon Association was pleased to honour a past Chairman and current MSA Director in a special fall event "Salute to Manley Price" on Saturday November 19th at the Woodmen's Museum in Boiestown, NB. During the last 20 years, as a Director withthe MSA, Manley has been actively involved in some of our most successfulprojects. During histenure as Board Chairman (2011-2014), the MSA successfully raised over $2.5million through its 60th Anniversary 'Miramichi
Forever Fund'Campaign. Manley was also instrumental in establishing MSA's allimportantrelationship with International Paper, who has since become the MSA's single largest donor, having now contributed and/or generated over $830,000 for theconservation of the Miramichi salmon.
Manley's contributions to conservation and society go far beyond the MSA, including playing an integral part in theinception of the Miramichi Watershed Management Committee (MWMC), a long-time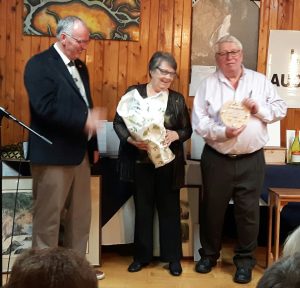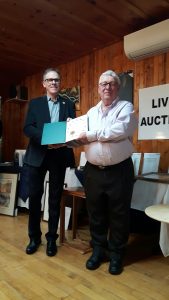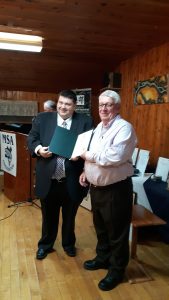 Director of the Boiestown Woodmen's Museum, and a founding member of the New Brunswick Wildlife Trust Fund.
The event was a full house at the Central New Brunswick Woodmen's Museum in Boiestown ,NB and Manley was (featured above : Mark Hambrook, Pat & Manley Price; MP Pat Finnigan & Manley Price; and to the left Minister Bill Fraser and Manley Price) honored by guest speakers Bonnie Robinson, Vince Swazey, Jo-Anne Linton, Marc Moir and Bud Bird. Deputy Mayor of the Rural Community of Upper Miramichi, Grant Ross, Minister of Transportation and Infrastructure, Hon. Bill Fraser and MP for Miramichi-Grand Lake Pat Finnigan were all present to present Manley with certificates on behalf of their respective governments. Manley was truly appreciative while accepting his award and was sure to recognize his wife Pat, as well as his family, friends and former co-workers who were present that evening.