Location
Parks Brook is a natural cold-water stream that empties into the Little Southwest Miramichi River near Halcomb, NB.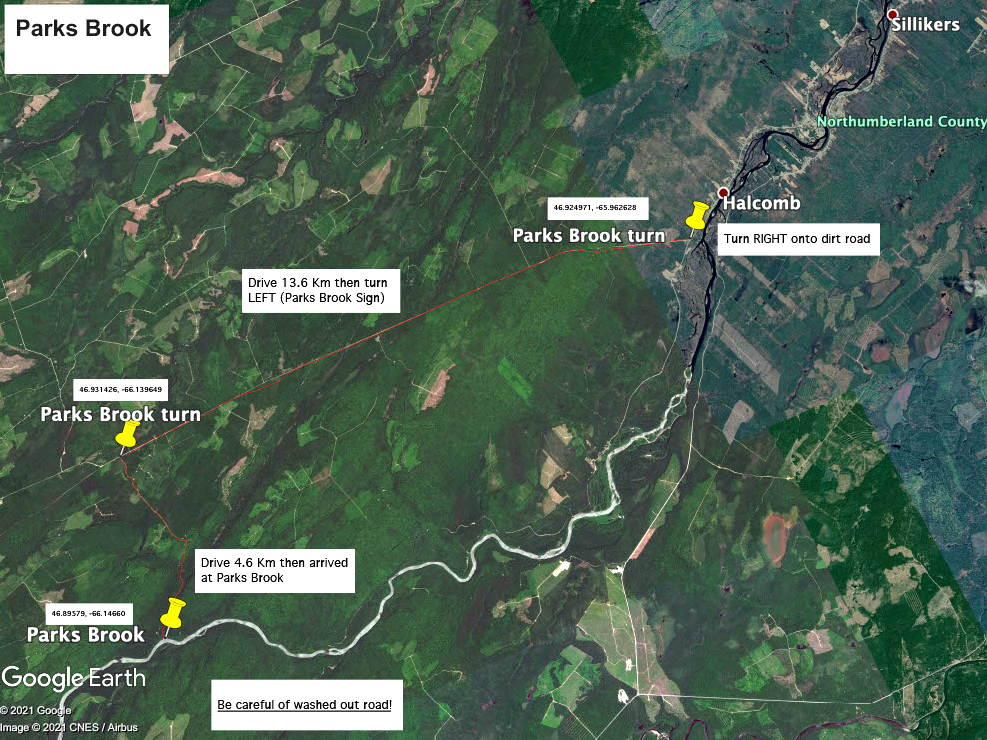 2016 Cold Water Habitat Enhancement
Sedimentation caused by stream bank destabilization and erosion was threatening the cold-water thermal refuge/sanctuary located where brook empties into the river, therefore the project's design was to promote flow conveyance and bank stabilization near the mouth of Parks Brook. This was accomplished by installing rock toes by fully embedding 1.0 meter diameter rocks within the brook's stream bed. These started at an off-road berm, tying into a modified riffle upstream, and extended approx. 22 meters on the right bank and 25 meters on the left bank down to the LSW Miramichi. A second line of 1.0 meter diameter rocks were placed behind the first row at the eroding road berm on both banks, creating a double line of rocks at the road berm to form a bank slope of 2H:1V. A modified riffle was also installed at the upstream ATV ford crossing to further reduce erosion.
This project was completed on August 18, 2016.
2021 Cold Water Habitat Maintenance
Our field team revisited the Parks Brook site in 2021 to assess and perform necessary maintenance work.