Passing it Forward – The MSA Trust for Planned Giving 
A thoughtful approach to giving.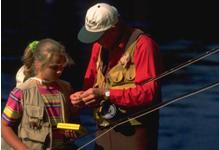 People from all walks of life support the MSA.
Among them is a very special group of committed conservationists… people who have chosen to make a legacy gift today in order to ensure that their lifetime of support and passion for the Miramichi River, for the Atlantic salmon who make it their home, and for the vital work being done by the MSA to protect and conserve both, will live on and be sustained long into the future.
When you include the MSA in your financial and or estate planning, you'll be helping to ensure that those who come after you will inherit a healthy and vibrant Miramichi River, capable of sustaining the same great diversity of life and socioeconomic benefits, opportunities and life-experiences that you have come to know and cherish.
Making a lasting gift
There are several ways to providing lasting support for MSA's conservation mission… with perhaps the most impactful being planning today what your own conservation legacy will look like tomorrow.
Some of the more simplistic yet very effective types of legacy or planned gifts include;
Bequest in your will or estate plan
Life insurance
Gift of stock and or property
Income annuity plans
Charitable remainder trusts
Memorial gifts
As with all planned giving initiatives, donors should seek professional advice to insure they maximize all tax benefits associated with their planned gift. In addition, donors can be assured the MSA will respect all confidentiality and or funding instructions associated with any planned gift.
Join the MSA Trust 
When you include the MSA in your financial and or estate planning, you'll become a part of the MSA Trust. In doing so, you'll be joining a very distinct and generous group of passionate and committed conservationists who have similarly chosen to 'pass it forward' by way of making their own planned gift to the MSA.
As a member of the MSA Trust, you'll be recognized as a lifetime supporter of the MSA. In addition, you'll receive a personal and distinctive MSA Trust lapel pin or pendent. The MSA will also keep you advised of its ongoing conservation activities through special events and communications.
If you'd like to learn more about how planned giving works and how it might be able to help you establish a meaningful conservation legacy, please read our Planned Giving Brochure or contact Stephen Tonning at (506) 457-2233 or ac.no1519559070mlasi1519559070hcima1519559070rim@n1519559070ehpet1519559070s1519559070