Anglers looking to reel in more striped bass can now keep more of their catch, but reactions in the salmon and striper communities are mixed.
Fisheries and Oceans Canada announced Friday that anglers can now take home three stripers every day of the fishing season,up from one or two a day last year, depending on the timing.
The federal government is also allowing anglers to fish more of the Northwest Miramichi River for a longer timeframe in the spawning season.
Mark Hambrook, Miramichi Salmon Association president, said the increased daily bag limit is good news, given the impact bass have had on wild Atlantic salmon stocks.
"We're quite pleased with that," said Hambrook."It's basically what we feel would be a good fishery [for bass]."
The protected area on the Northwest Miramichi was dropped from 9.8 to 6.5 kilometres, and the prohibition period during the spawning time was decreased from nine to five days.
That small Northwest Miramichi section is the only known successful spawning ground for stripers in the Southern Gulf of St.Lawrence region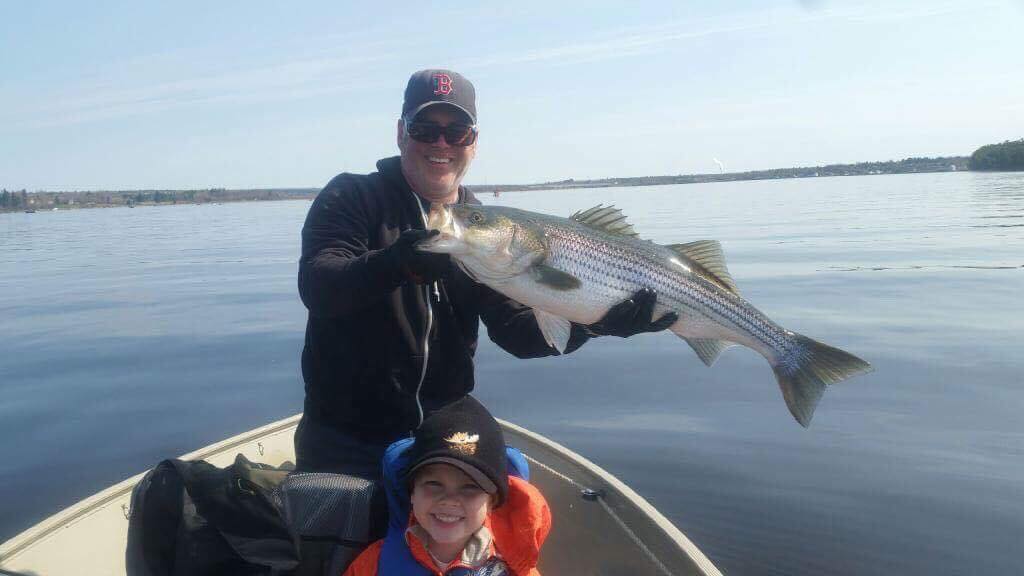 Local Fisherman Jamie Sullivan and MSA Member Ben Morris catch a bass on the Main River while boating in the summer of 2017.
"We don't believe the spawning grounds closure is required at this time,"said Hambrook.
The new daily cap for bass follows a report published in the Canadian Journal of Fisheries and Aquatic Science earlier this year which states that 18 per cent of all migrating salmon smolts are being devoured by stripers on their way to the sea.
The roughly one million striped bass spawners in the Miramichi are in contrast to the more than 26,000 Atlantic salmon that returned to the river's Southwest and Northwest branches an annual reduction of about 6,000 fish. Salmon stocks have been declining for decades.
The release last month of updated government figures also shows the spawning striped bass numbers in the Miramichi River system more than tripled within a year, which sparked shock and concern among people who ply the river.
The 2017 estimate was roughly 994,000 stripers, an increase of just over 600,000 fish from the year before
Hambrook said he doesn't think the new maximum will deplete the bass population.
"We agree with the three a day bag limit,but there shouldn't be a limit on the size of your catch," he said. "You should get to keep the bigger fish."In fresh water during the summer months, we would like for people to be able to keep a striped bass no matter what its size is."
Hambrook also said a limited commercial fishery,like the one sought by Eel Ground First Nation, is a must to keep the bass population in check.
Jeff Wilson, co-promoter of the Miramichi Striper Cup tournament disagrees.
Wilson said a modest bag limit hike isn't bad, unless a commercial fishery opens in the Miramichi watershed.
"The bag limit is only three a day but the possession limit is six," said Wilson."It's not like you can fill your freezers, so that makes a difference."
Wilson worries the new bag limit including the entire spawning period the smaller protected area and shorter prohibition period, could be detrimental to the striper fishery and recreational angling, which provides greater Miramichi with lots of economic benefits.
"We'll have to wait until the following year to see what that impact is," said Wilson, adding he supports a higher bag limit but only for after the spawn period.
"This will probably be OK and get the desired effect of [a bass] reduction. But it will wipe the fishery out if they add commercial fishing."
The government protected stripers for many years after stocks plummeted to dangerously low levels in the 1990s, with just a few thousand spawning adults believed to be in the gulf.
The population has experienced a remarkable turnaround in recent years, however, with Fisheries and Oceans reopening the fish to limited retention angling in 2015.
The recreational striper season began Sunday. It continues until Oct. 31 in tidal waters.
The inland water season goes May 1 to Sept. 15, except in the Miramichi River system,which is from Sunday to Oct. 15.
– With files from John Chilibeck,Legislature Bureau
"We don't believe the spawning grounds closure is required at this time.
MARK HAMBROOK
This article appeared in the Miramichi Leader on April 18, 2018 - Nathan Delong