The 2012-2013 Miramichi Salmon Association Heritage Calendar is now available! This fifth issue of the MSA Calendar contains a variety of scenic prints from artists capturing the beauty of the Miramichi River.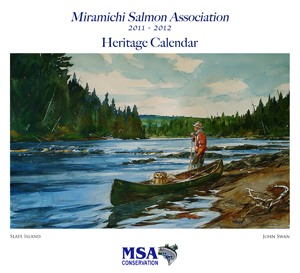 We are delighted to have 13 sponsors who have purchase ads that will be appearing in the calendar. These ads will cover the costs of printing so all the proceeds will go directly to the MSA. Our sincere appreciation is to the following companies:
AMEC
Cain Insurance
Fundy Engineering
Beaver Brokerage Inc.
York Financial Services Inc.
Bird-Stairs
J.D. Irving, Limited
Fredericton Outfitters & Anglers
Stantec
Harriman Burchill Insurance Inc.
SWN Resources Canada
Cyber Copy
Teed Saunders Doyle, Chartered Accountants
The calendar is priced at $15 (shipping and handling to apply) and can be purchased through the MSA Web site and the MSA offices. The calendar will make a great gift for the avid fisherman, historical enthusiasts or for anyone interested in preserving the Miramichi River and its environment.