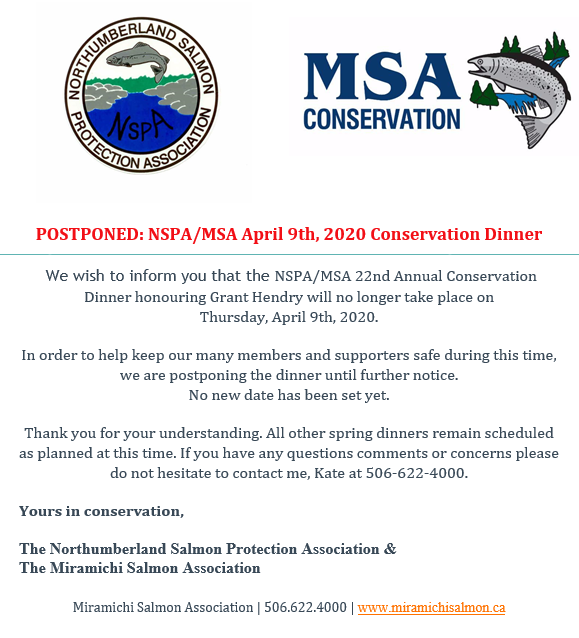 This year at the 22nd annual Northumberland Salmon Protection Association/ Miramichi Salmon Association Dinner and we will be honouring local MSA member and active volunteer Grant Hendry. Grant's contributions to the Fish Friends Program in the local schools has been paramount to it's success over the last 3 years. Grant merged his passion for teaching and conservation once he retired and solidified himself as the local liason and lead volunteer for this program that provides a fun, hands-on program on Atlantic salmon and trout with a great curriculum guide for teachers. Students see young Atlantic salmon and brook trout hatch from eggs and grow to fry before being released into streams. It is a great hands-on experience with raising wild fish.
We will be recognizing this and more of Grant's ongoing conservation efforts on Thursday April 9th at the Rodd Miramichi and look forward to having all of MSA's supporters out to celebrate such a deserving local member. Tickets are just $50 and the evening includes a silent auction and live auction. (Photo: Grant Hendry)
With the rapidly evolving response to the Covid-19 pandemic, following recommendations of our Chief Medical Officer, the MSA will be cancelling or postponing many of our spring social events at this time. This list includes the following conservation dinners in Miramichi (April 9), Boiestown (May 2) and Moncton (May 21) and moving the Annual General Meeting (May 2) until a later date in the fall (TBD).
If you have any questions or concerns please contact Kate at 506-210-0837 or via e-mail at