Waveglider Finds ASF-tagged Kelt
From Atlantic Salmon Federation 
Waveglider Finds ASF-tagged Kelt
A Wave Glider operated by the Ocean Tracking Network headquartered at Dalhousie University has been undertaking a search pattern for ASF's sonic-tagged Atlantic salmon kelts and smolts in the Gulf of St. Lawrence.
Early this week a sonic receiver aboard the wave glider detected the signal from one of the kelts with implanted sonic transmitter that came from the Miramichi. The kelt was found at 48.3045N, 63.2098W (see map below). The kelt was detected over a period of 35 minutes.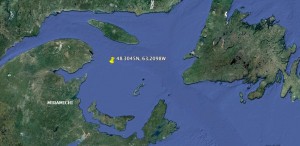 Details of this Atlantic salmon kelt: It was a female kelt, 77.9cm (fork length), and weighed 3.10kg. It was tagged April 20, 2012 at Red Bank on the NW Miramichi, was also released April 20, 2012 at same location. It entered Miramichi Bay on May 4, and entered the Gulf of St. Lawrence on May 6 after two days in Miramichi Bay. It was not heard from again until the Wave Glider detection on May 20.
The wave glider utilizes the up and down movement of the waves to power itself forward along a programmed course. There is a floating component that somewhat resembles a surfboard, and that carries detection equipment. This component is connected to a sub-surface set of vanes that translate the wave energy into a forward propulsion.