Location
Donnelly Brook is a tributary of the SW Miramichi, located a short distance above the Upper Blackville Bridge.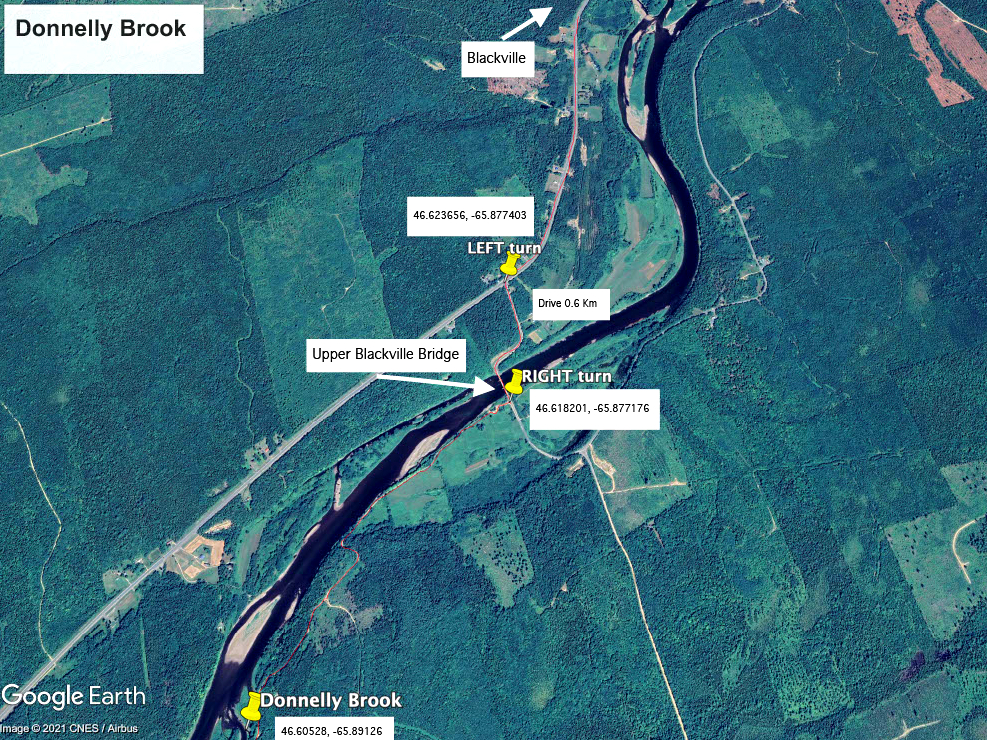 2015 Cold Water Habitat Enhancement
The goal of this restoration project was to improve the river system's ability to transfer concentrated cold water from Donnelly Brook out into the SW Miramichi and downriver to the existing  salmon pool, thus improving the pool as a cold-water refuge for Atlantic salmon.
This was accomplished by narrowing the bankfull width at the mouth of the brook to approximately 10 m (an appropriate width for this size of brook) and redirecting the flow into the thalweg of the SW side channel. Large rock (1.0m diameter) was used to narrow the channel.
Stream sedimentation at the mouth of Donnelly Brook was also a concern. Therefore, another objective of the project design was to create conditions that would discourage material deposition at the confluence of the brook and the SW side channel. By re-establishing the SW side channel thalweg on the outside bend, where it meets Donnelly Brook, provided increased flow energy on the outside bend and helps transport material away from the confluence. Re-alignment of the thalweg was achieved by removing a gravel bar that was at the mouth of the brook and installing 3 rock spurs along the outer bend on the right bank.
This cold-water project was completed in late September, 2014.
2021 Cold Water Habitat Maintenance
Our field team revisited the Parks Brook site in 2021 to assess and perform necessary maintenance work.